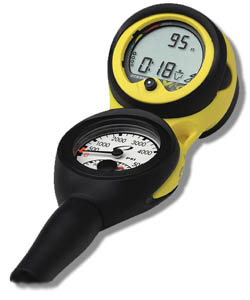 Oceanic VEO 100 (Swvl combo)
The Veo 100 is an economical and easy to use computer with state of the art features.
Depth rated for 330 feet , the Veo 100 adjusts automatically for altitude and salt or fresh water.
The Veo 100 lets you choose as many as three main dive mode displays and stores data from 12 dives.
Displays:
Current depth and Max depth
No decompression time remaining
Nitrogen loading
Variable ascent rate
Low battery
Time of day and Time to fly
Flashing safety stop icon and 3 minute timer
Nitrogen off-gasing countdown
The Veo offers large, easy to read alphanumeric displays and color coded graphs where green means "go", yellow means "caution" and red means "stop." The computer can be turned on before your dive, but if you forget to do this, it turns itself on underwater. The batteries have a lifetime of 300 hours and are user replaceable at any time without the loss of data.